To improve the Goalkeeper, we must first improve the coach
Animated Goalkeeper Session of the Week
As part of our partnership with award winning session planning software giants, SportSessionPlanner, we love to share professional animated session plans with our fantastic network on a weekly basis.
Within this area, you can find professional and outcome driven Goalkeeper sessions, that will undoubtedly benefit the Goalkeepers you work with every week.
We are delighted to share with you this week's session.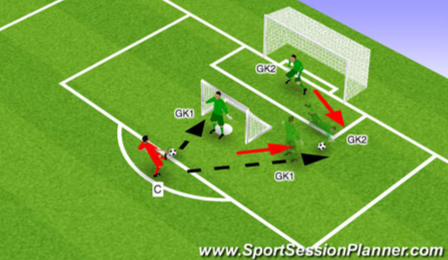 Utilising Goalkeepers in SSG's
Check out these 3 simply designed SSG's which ensure Goalkeeper development.
With a focus on shot stopping and positioning, these exercises can be used with a group of Goalkeepers or as part of a midweek training schedule with the full squad.
Equipment needed:
2x age relative goals
2x mini goals
Footballs
Cones/flat markers
Check out our previous sessions of the week…
Do you like what you see? Excellent, as we have great news for you.
You can gain access to all of our animated Goalkeeper sessions within our Members area.
We have a network of coaches from all over the world enjoying the content created by our team of world renowned Goalkeeper coaches and you can join them too and claim your first month completely FREE by clicking 'here'.
FREE Mailing list
Join 1000's of other Goalkeeping enthusiasts and be the first to know when we upload some new awesome Goalkeeping content, including; coaching sessions, interviews, Goalkeeping tips. We will even send you a FREE pre-match Goalkeeper warm up session plan.
Don't worry, your email address is in 'safe hands' with us.
You will receive a welcome email from us straight away, if you do not receive it, please check your spam folder. Once you move our email from your spam folder into your inbox, you won't miss out on any future emails again.